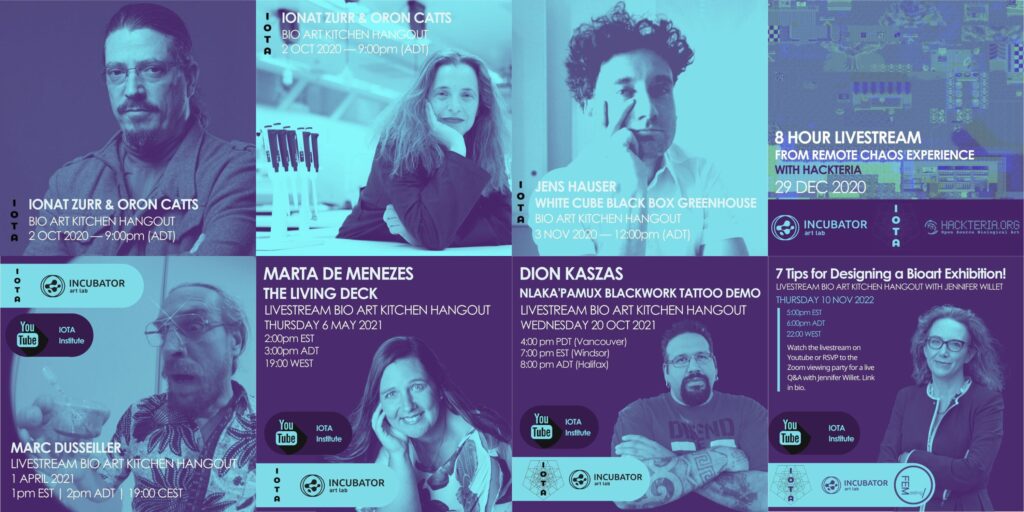 IOTA Institute and the Incubator Art Lab present the Bio Art Hangout Kitchen Series; a virtual hangout with an invited bio artist or scientist, who will perform an art/sci protocol, performance or show and tell.
These events feature a 60-minute Zoom Hangout, this series focuses on knowledge-sharing and engaging bio art enthusiasts with bio art actions you can do in your own homes.
On November 10, 2022, IOTA Institute & INCUBATOR Art Lab present the sixth Bio Art Kitchen Hangout, "7 Tips for Designing a Bioart Exhibition," featureing bio artist Jennifer Willet as she tunes in from Windsor, Ontario.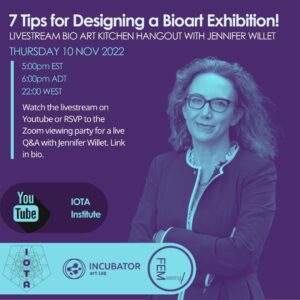 On October 20th, 2021, IOTA Institute and INCUBATOR Art Lab will livestream a tattoo demonstration with Dion Kaszas on IOTA's Youtube channel on Oct 20th. As the fifth online event in our Bio Art Kitchen Hangout series, Dion Kaszas will be tattooing Ecko Aleck live from Secwepemc territory.
On May 6th, 2021, IOTA Institute and INCUBATOR Art Lab livestreamed a card game with bio artist Marta de Menezes on IOTA's Facebook & Youtube channel on May 6. Marta de Menezes mailed a custom deck of cards to five players around the world for a first bio art card game.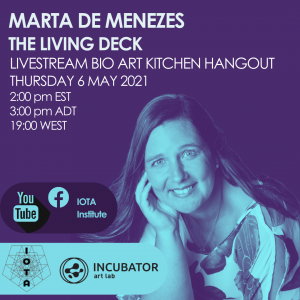 Marc Dusseiller Lab Tour and Talk
On April 1st, 2021,  IOTA Institute and INCUBATOR Art Lab hosted a livestream conversation with Marc Dusseiller on IOTA's youtube channel. Together we toured Hackteria's lab in the hackerspace Bitwäscherei in Zurich, Switzerland, and learn about how they create digital and real-life lab spaces. Marc Dusseiller discussed hacker networks, citizen science, and DIY approaches to sharing open source biological art.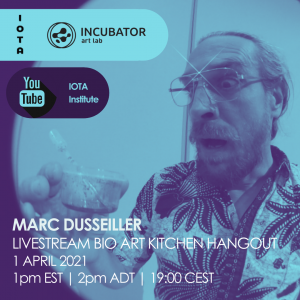 Marc Dusseiller and Hackteria
#3  On December 29th, 2020, IOTA Institute and the INCUBATOR Art Lab livestreamed from Hackteria's online world! 
We joined Marc Dusseiller and the Hackteria network in their 2D retro-game style world for talks and performances during rC3 – Remote Chaos Experience. Together we visited the gamified recreation of their real-life hackerspace "Bitwäscherei" in Zurich, Switzerland, as they gather online with a global network of hackers for rC3 – Remote Chaos Experience.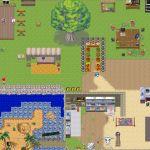 #2  On November 3rd, 2020 participated in "White Cube, Black Box, Greenhouse," featuring curator and scholar Jens Hauser as he tunes in from Paris, France to discuss curating art with biomedia, from the allegedly neutral white cubes and black boxes to greenhouses, while giving a tour of his personal collection of bio art artifacts.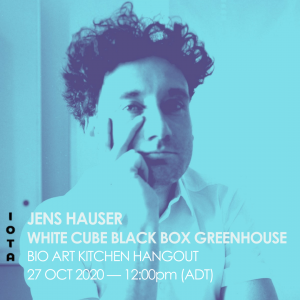 Ionat Zurr and Oron Catts
#1 On October 3rd, 2020, we met Oron Catts and Ionat Zurr @symbiotica.lab as they tuned in from Perth, Australia for a Bio Art Kitchen Hangout. Together at happy hour, we raised a DNA cocktail, share compost stories, and discuss DNA chauvinism and feminist aspects of incubation.