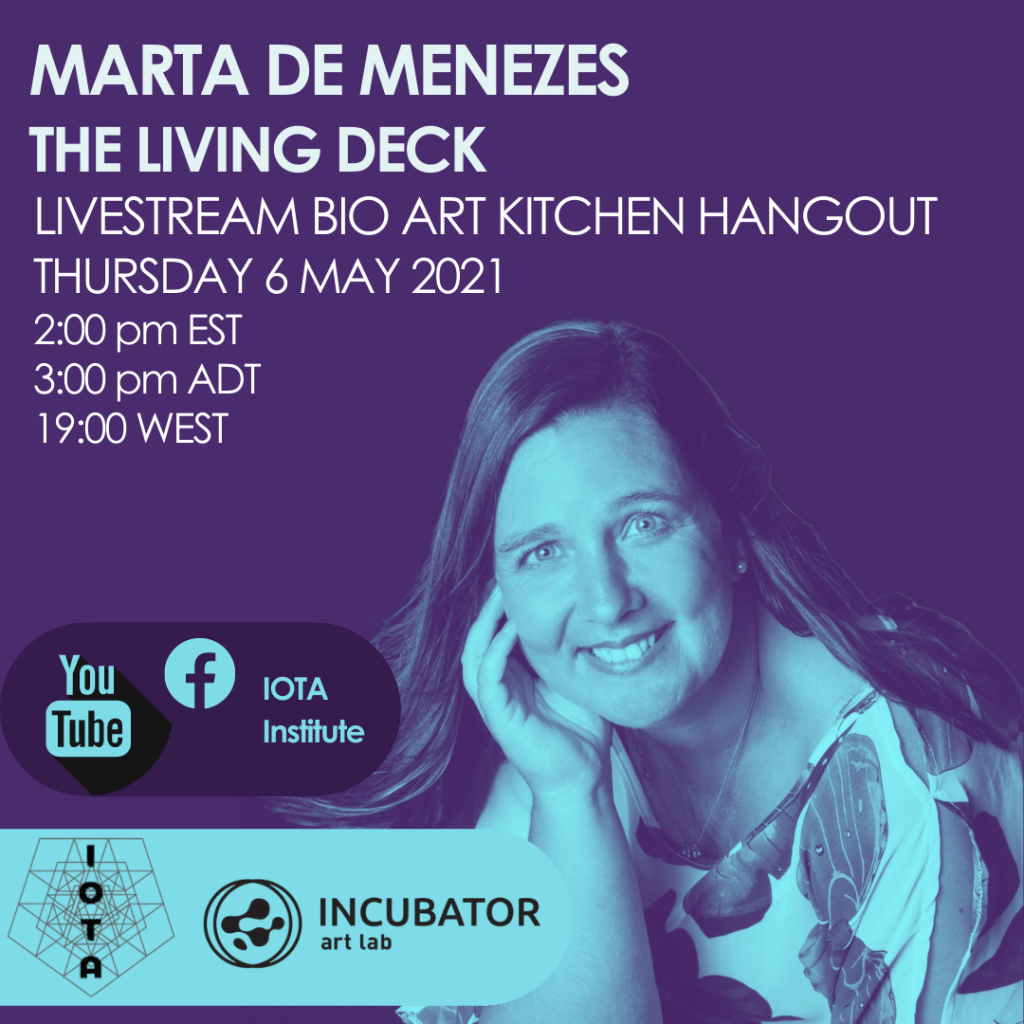 For the fifth Bio Art Kitchen Series, IOTA Institute and INCUBATOR Art Lab livestreamed a card game with bio artist Marta de Menezes on IOTA's Facebook & Youtube channel on May 6. Marta de Menezes mailed a custom deck of cards to five players around the world for a first bio art card game.
The cards feature bio artworks, and prompting questions on the ethics, boundaries, and challenges of the bio art world. The game itself was simple: players drew a card that they wished to discuss, and Marta steered the conversation in that direction. Together discussed identity, immortality, and the borders between natural and artificial.
Event took place:
Vancouver: 11:00 am
Windsor (EST): 2:00 pm
Halifax (ADT / GMT-3): 3:00 pm
Portugal (WEST / GMT+1): 7:00 pm
Vienna: 8:00 pm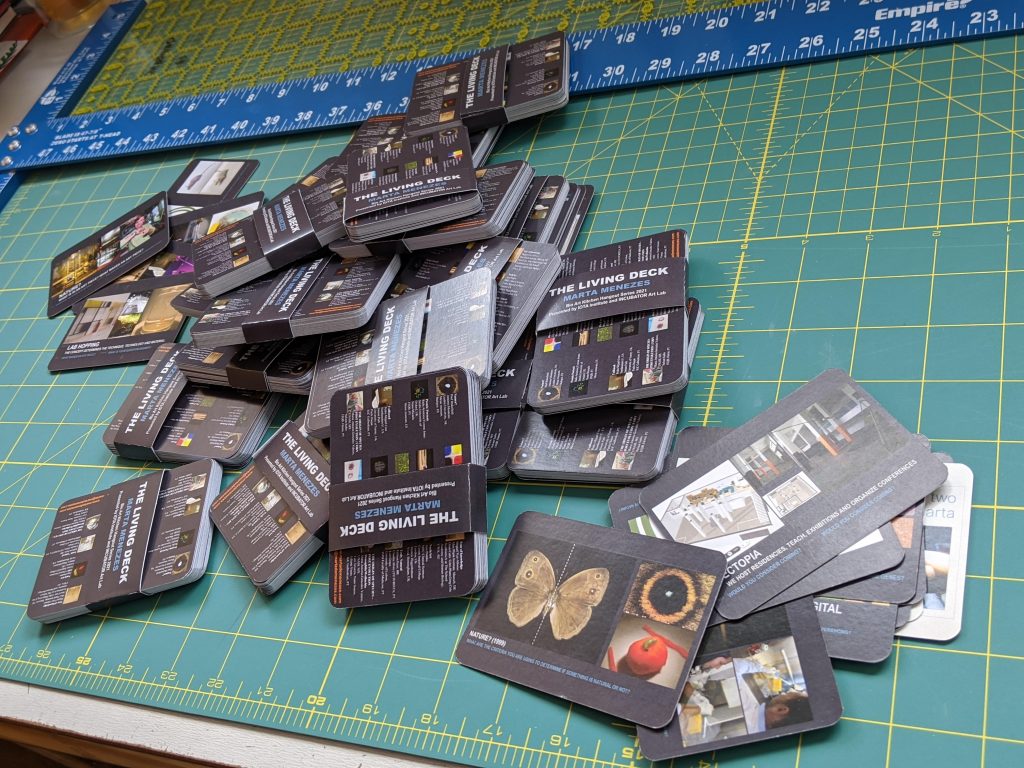 Marta de Menezes is a Portuguese artist (b. Lisbon, 1975) with a degree in Fine Arts by the University in Lisbon, a MSt in History of Art and Visual Culture by the University of Oxford, and a PhD candidate at the University of Leiden.
She has been exploring the intersection between Art and Biology, working in research laboratories demonstrating that new biological technologies can be used as a new art medium.
In 1999 de Menezes created her first biological artwork (Nature?) by modifying the wing patterns of live butterflies. Since then, she has used diverse biological techniques including functional MRI of the brain to create portraits where the mind can be visualised (Functional Portraits, 2002); fluorescent DNA probes to create micro-sculptures in human cell nuclei (nucleArt, 2002); sculptures made of proteins (Proteic Portrait, 2002-2007), DNA (Innercloud, 2003; The Family, 2004) or incorporating live neurons (Tree of Knowledge, 2005) or bacteria (Decon, 2007). Her work has been presented internationally in exhibitions, articles and lectures.
She is currently the artistic director of Ectopia, an experimental art laboratory in Lisbon, and Director of Cultivamos Cultura in the South of Portugal.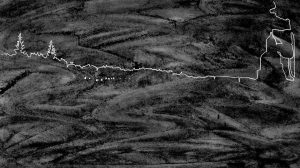 Becka Barker ( @beckajb ). Becka is an artist, educator, researcher, and cultural worker focused on collaborative practices in experimental animation and other time-based media.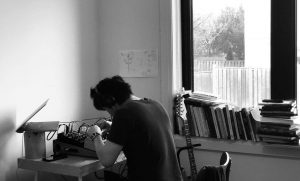 Joel is a media artist based in Toronto with interests in Ecology and Bioart. He is Assistant Professor in Computational Arts at York University and Director of Sensorium: Centre for Digital Art and Technology.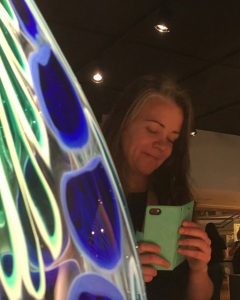 As a complex integrated systems thinker, Kelly Schnare is a socially-minded science-driven doer. She strives to think big and holds space to fail safely. She identifies with the ocean and all the fresh waters that connect to it. Kelly is on Twitter (@foreverytree)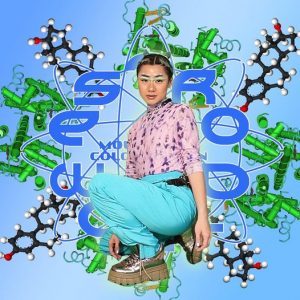 Mary is a non-binary artist working at the intersection of body and gender politics and ecological alienations, using biohacking and public amateurism as a critical practice.
What gives you the authority to manipulate organisms for art? 
Can we artificially create nature? 
How do you (co)exist?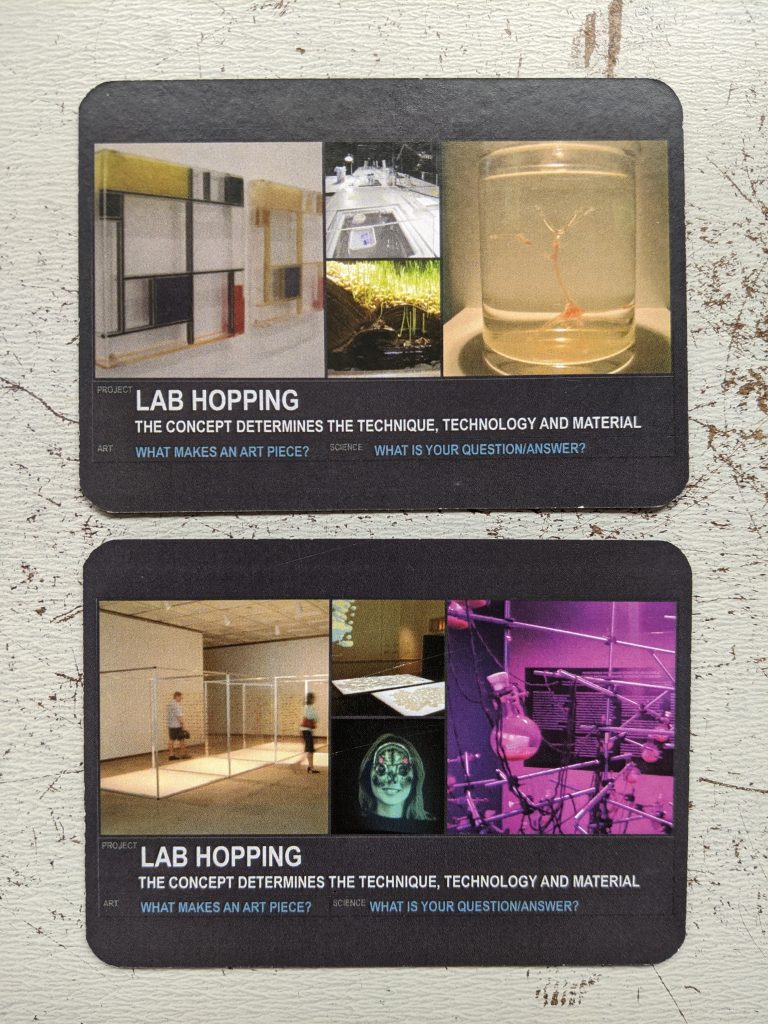 Marta de Menezes is a Portuguese artist (b. Lisbon, 1975) with a degree in Fine Arts by the University in Lisbon, a MSt in History of Art and Visual Culture by the University of Oxford, and a PhD candidate at the University of Leiden. She has been exploring the intersection between Art and Biology,... Read More