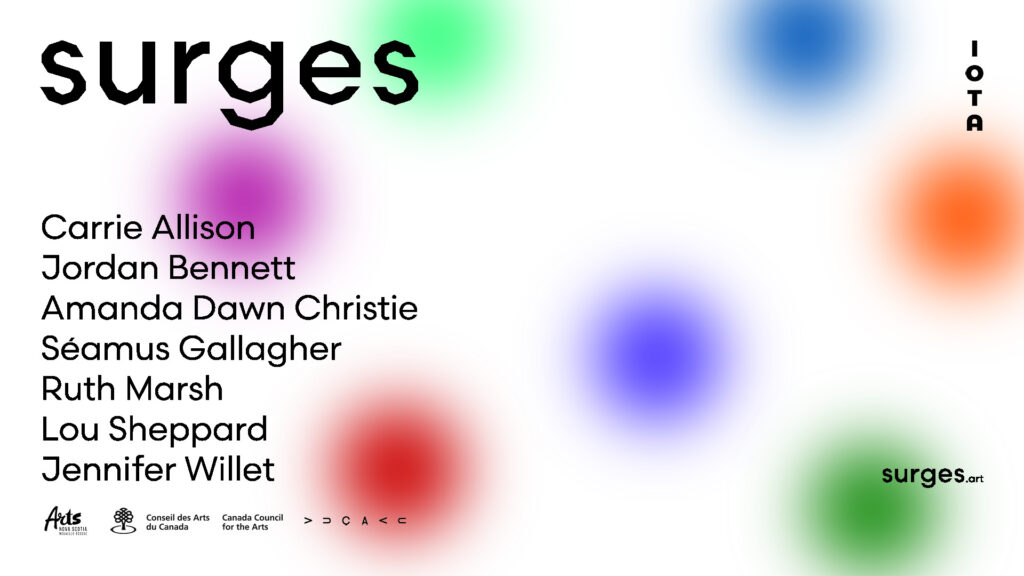 Surges is an online ecosystem of seven virtual environments presented by IOTA Institute in partnership with VUCAVU. This project invites artists to design online exhibition spaces with technical support, to create experiences for audiences beyond linear visual aesthetics. Artworks explore vibrational haptics, interactive instruments, 360 video, and augmented reality to create multisensory online experiences and encounters. 
These solo exhibitions explore the potential of virtual arts spaces for the presentation of artworks that are in progress, in beta, in the midst of perpetual creation. Unveiled in seven sequential launches throughout 2023, each surge is an artist-led designed space by: Carrie Allison, Jordan Bennett, Amanda Dawn Christie, Séamus Gallagher, Ruth Marsh, Lou Sheppard, and Jennifer Willet. 
How to Access the Exhibition
Visit surges.art
Selected artworks are accessible on mobile devices or desktop only. Prompts and access notes will guide users through each environment. Stay tuned to IOTA's social media for tutorials & video previews, and tag @iotainstitute when you share your own experience at Surges. 
Carrie Allison: Buffalo Rising
This artwork can be experienced on mobile only.
Buffalo Rising is an Augmented Reality piece that imagines the buffalo returning to all landscapes; prairies, urban, rural, and seascapes. In the late 1800s the buffalo were slaughtered in both the United States and Canada as a way to starve Indigenous Nations into submission, or straight up genocide. Buffalo Rising features seven beaded, felted, and tufted buffalos that roam your immediate landscape through your screen.
Lou Sheppard: Lonely Hearts Call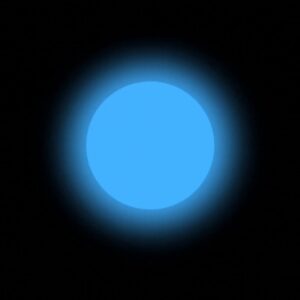 This artwork can be experienced on mobile or desktop, but the vibrations are compatible with Android devices only. 
Lonely Hearts Call is an interactive phone application that allows you to experience a morse code message as light flashes and vibrations. As queer people language that describes our identities and our bodies can be liberating – a moment of recognition, or violent – an erasure of our identity. Lonely Hearts Call shows how language can betray us – we are exposed by the flashing light, our bodies shaken by the vibrations of the morse code message. But language can also make us – the light revealing our bodies on a dance floor, the bass of a dance track aligning or breathing and heart beats. Amid rising violence towards queer people and the loss of queer spaces from our communities Lonely Hearts Call is both a lament and a call to connect. 
Ruth Marsh: Mycelial Dimension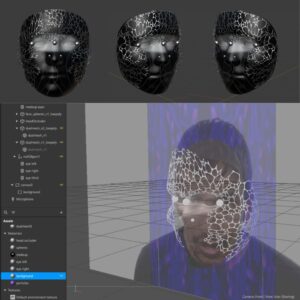 This artwork can be experienced on mobile only.
Entangle your tender mushroom hyphae with the soul of the universe and enter the Mycelial Dimension.
Amanda Dawn Christie: DX Drone Machine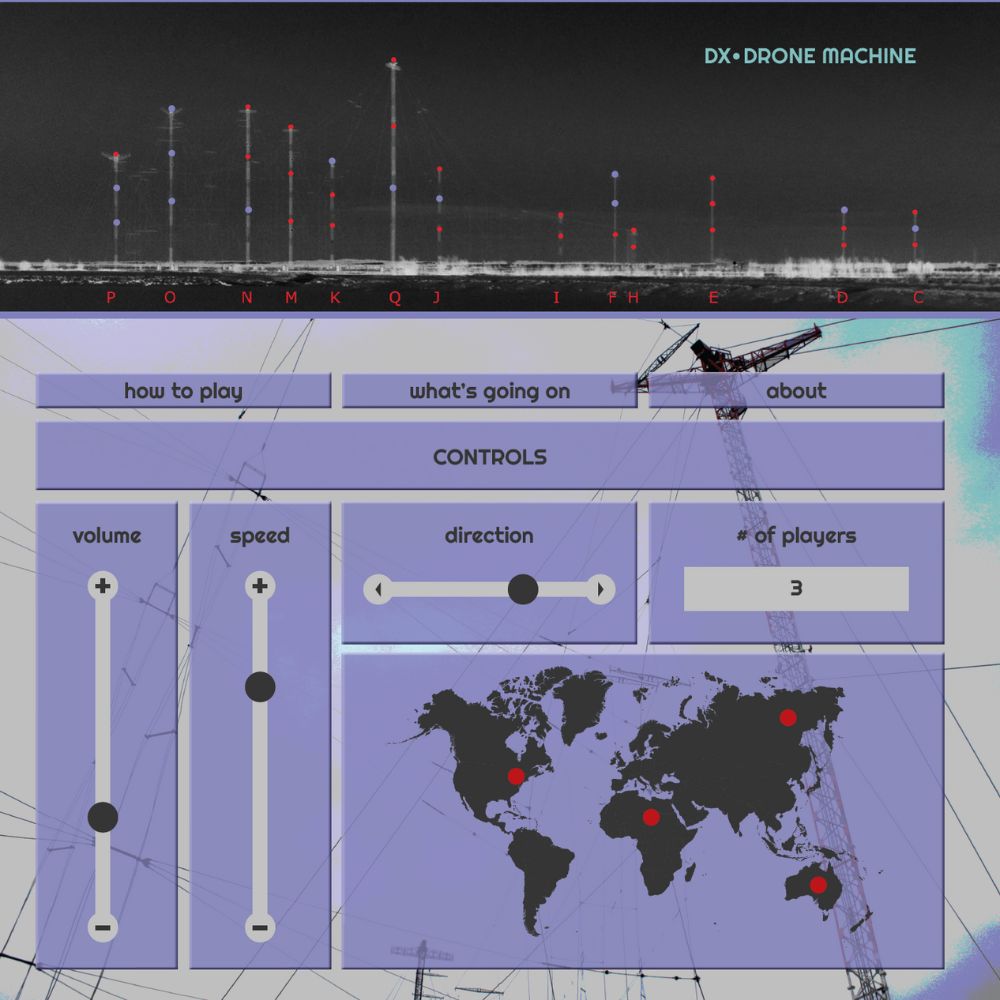 This contemplative interactive musical web instrument is built upon a library of contact microphone recordings from the RCI (Radio Canada International) radio towers, that can be played in real time by multiple people from around the globe.  Just as EM waves are not constrained by the boundaries of nation states, this project invites people from various parts of the globe to play together across borders, conjuring the ghosts of radio towers and contemplating the molecular memory of that metal.
Jordan Bennett: Remembering Her Voice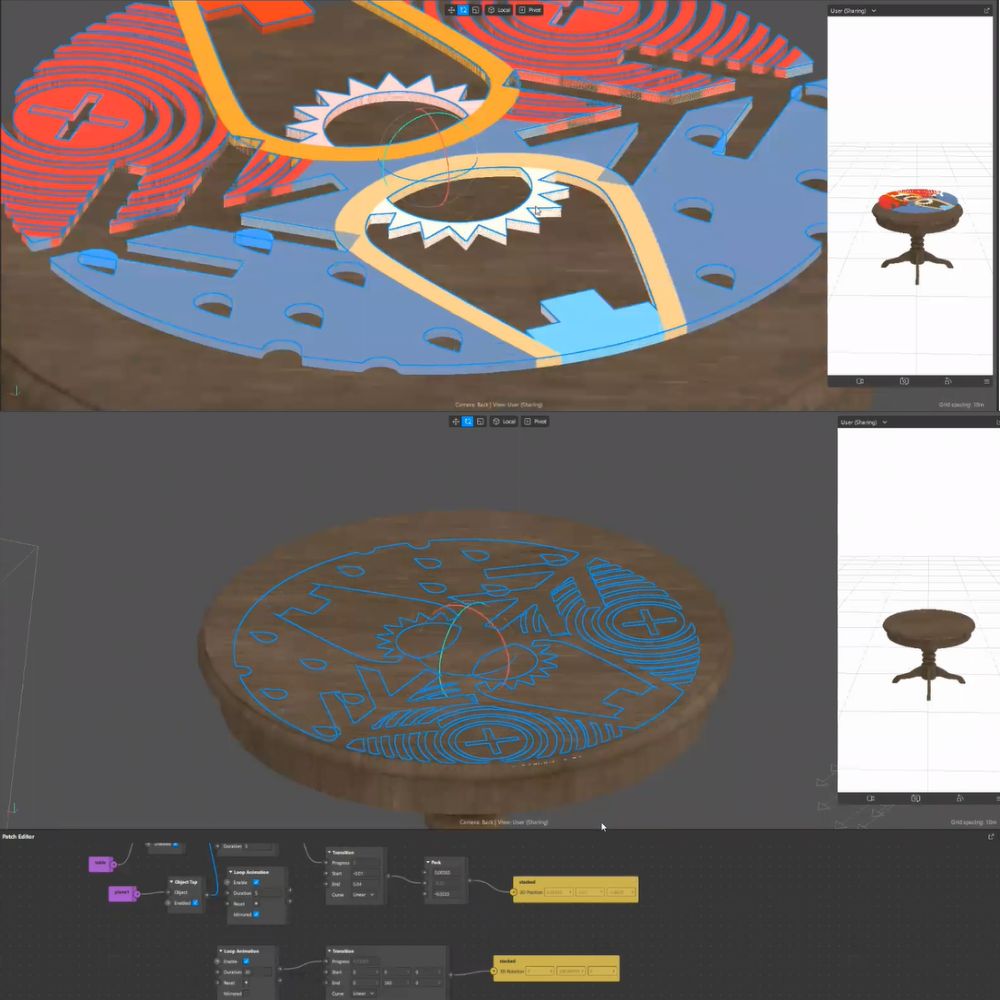 In this augmented reality piece Jordan invites you to come sit at his grandmothers table. For him this was a place to learn, reflect and grow. He learned so many stories while visiting his Nan over games of radio bingo, cups of tea, moose pie, tea buns and even rolling cigarettes. 
This piece brings one of Jordan's circular paintings to life and provides a deeper look into the usual 2D pieces he is known for. 
Séamus Gallagher: WHOLE NEW WORLD/FOR SOPHIE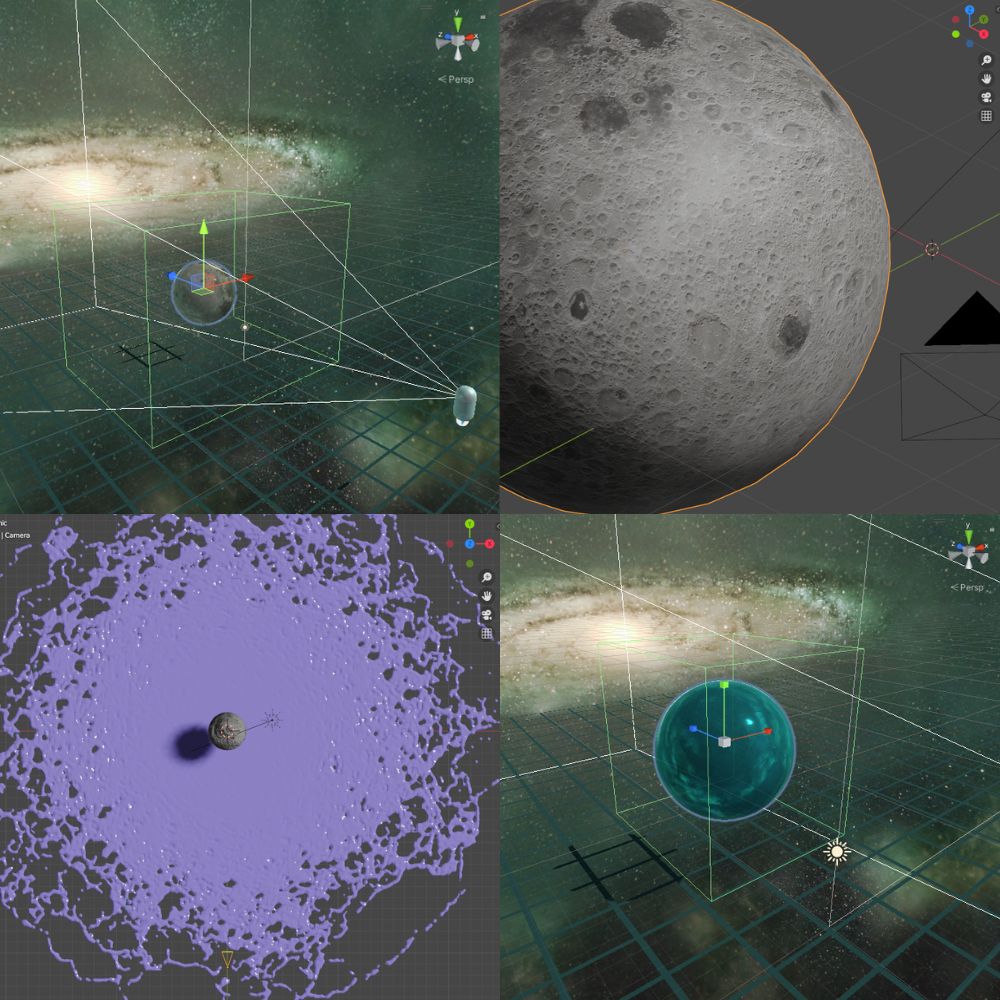 WHOLE NEW WORLD/FOR SOPHIE is dedicated to the late artist SOPHIE. It is about finding and creating new worlds, as well as a rumination on collective mourning.
With a Bachelors of Fine Arts (major in Graphic Design) from the University of Québec, Sébastien Aubin has worked for Kolegram, one of the most prestigious graphic design studios in Québec, and has since shaped his professional career as a freelance graphic artist. Aubin is one of the founding members of the ITWÉ collective that is dedicated to research, creation, production and education of Aboriginal digital culture. Currently based in Montréal, QC, Sébastien Aubin is a proud member of the Opaskwayak Cree Nation in Manitoba.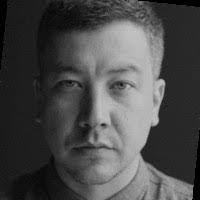 Seva is a digital artist known for his innovative work in the intersection of computation and digital arts, who began experimenting with various forms of digital art, including generative art and augmented reality, and quickly gained recognition for his unique approach to creating immersive and interactive experiences. He loves exploring New Media Arts by the means of leading-edge innovation. As his interest in technology grew, he also became a respected member of the "red team" community, using his skills to help organizations identify and address potential security threats. His work serves as an example of how creativity and technical expertise can be combined to make a meaningful impact on the world, his art is thought-provoking and his work as an ethical hacker helps to keep the digital world safe for everyone.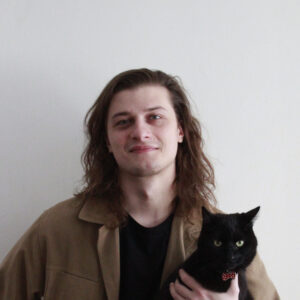 Kristina McMullin is an arts administrator and academic in training with an activist's heart. Her work investigates how arts and academia can create culture while pushing for necessary societal change. She has designed, promoted, and produced deliverables, events, and exhibitions through her work as the communications manager at Tangled Art + Disability, and as a research assistant on the SSHRC-funded project Cripping Masculinity.