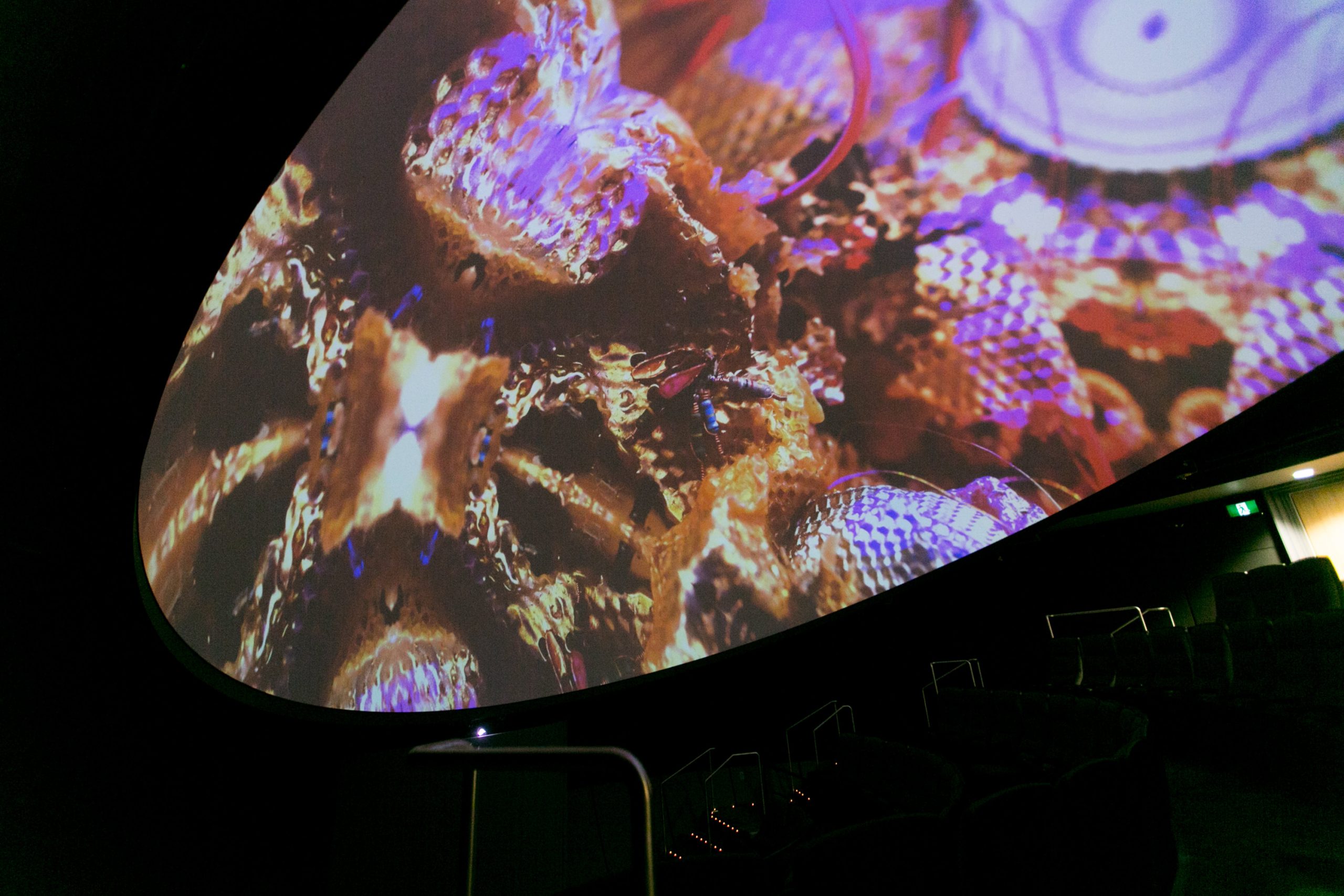 This immersive experience created by Ruth Marsh is a stop-motion, 360-degree video with original music and sound design by Jeremy Costello.
The presentation will invite viewers to enter into a technologically altered, large-scale beehive.
Originally created through an IOTA residency for the Seadome (Halifax NS), this cinematic experience will run at Discovery Centre every Wednesday at 5:15pm, May 15-June 12, 2019.
An artist talk and Q&A with Ruth Marsh will be held at 6:30-7:30pm.
Runtime: 15 minutes; 5 screenings running every 30 minutes
MORE INFORMATION:
This event is free and open to everyone.
The venue is fully accessible.
ABOUT THE ARTIST:
Ruth is a Canadian multidisciplinary artist of settler ancestry based out of Kjipuktuk,(Halifax, NS, Canada). Her practice employs an absurdist approach which seeks to queer the intersections between DIY culture, art making, and science fact/fiction/fabulation to address memory, healing, and cybernetic interconnection in both bodies and environments. She approaches her practice from a perspective which is part mad scientist and part devoted repair technician and through processes which are inherently labour intensive, repetitive, and painstaking. She is interested in playfully exploring the ways in which modalities of labour can translate into a study of both enacted care and hopeful mourning.
ABOUT IOTA'S BIO ART SERIES:
Immerse your senses in the transcendent discipline of Bio Art. IOTA's Bio Art Series continues this spring with a collection of talks, workshops, and exhibitions designed to bring Bio Art into public and accessible forums. Get curious and explore artistic and research practices, interdisciplinary challenges, and the social implications of Bio Art through this free series of events running in May 2019.
IOTA acknowledges the support of the Canada Council for the Arts.