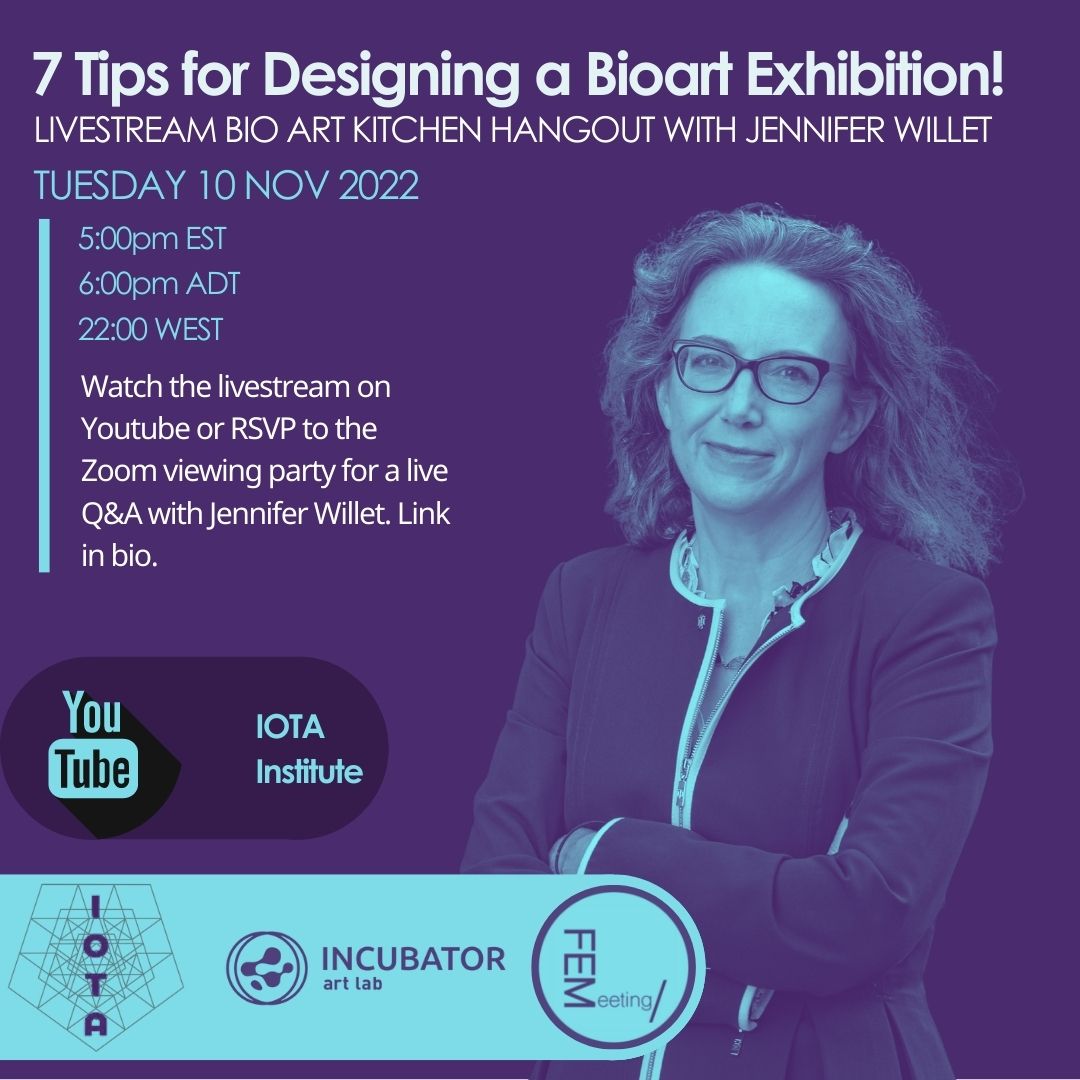 IOTA Institute and the INCUBATOR Art Lab present the Bio Art Hangout Kitchen Series; a virtual hangout with an invited bio artist or scientist, who will perform an art/sci protocol, performance or show and tell. The sixth Bio Art Kitchen Hangout, "7 Tips for Designing a Bioart Exhibition," features bio artist Jennifer Willet as she tunes in from Windsor, Ontario. 
Ever wondered what it takes to plan a bioart exhibition?  Dr. Jennifer Willet, Director of INCUBATOR Art Lab, has been successfully exhibiting living biological artworks in galleries and museums for over 20 years.  IOTA and INCUBATOR Art Lab present their 6th Bioart Kitchen Hangout, which follows Dr. Willet from her studio in Windsor, Ontario, Canada to Ectopia – Laboratório de Arte Experimental in Lisbon, Portugal.  Managing international customs, high emotions, and multiple funding agencies, Willet installED a complex bioart exhibition in 7 days, in time for the annual FEMeeting: Women in Art, Science, and Technology conference.  Willet will share with audiences 7+ tips for successfully designing and installing a bioart exhibition under high pressure circumstances.
When to tune in:
November 17, 2022 at
Windsor (EST)

: 5:00 pm

Halifax (ADT): 6:00 pm
Portugal (WEST): 10:00 pm
There are two ways to tune in:
Watch live on IOTA's Youtube channel HERE. No registration or sign in required.
Or join the Zoom watch party for a live Q&A with Jennifer Willet & curator Mireille Bourgeois. Be sure to register in advance HERE.
For more info, look on the event page HERE.