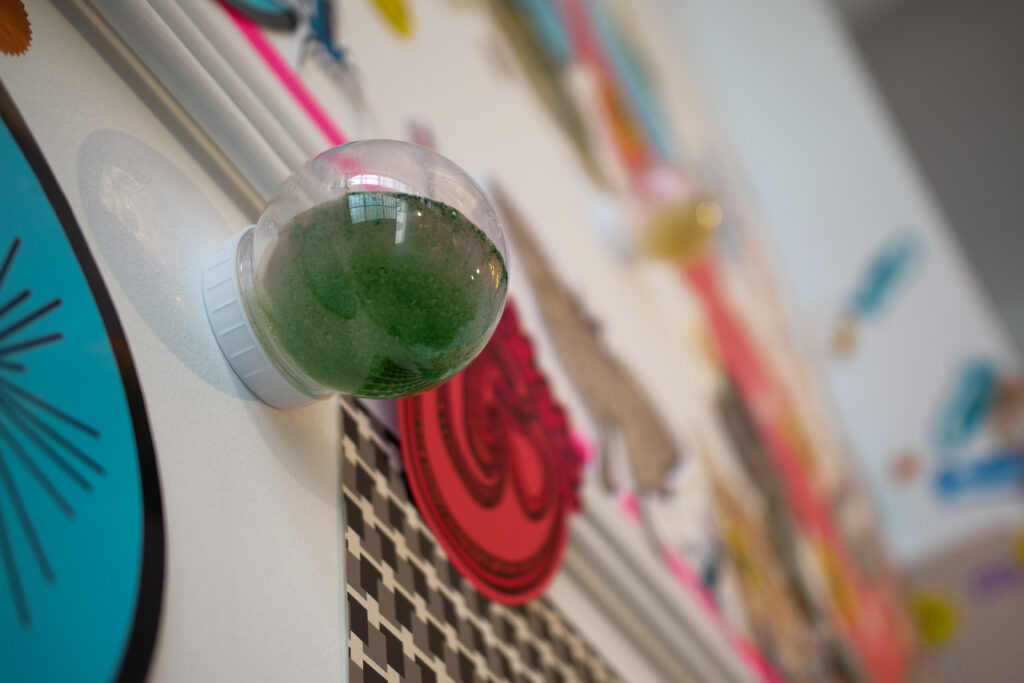 IOTA Institute is pleased to be touring manager for When Microbes Dream, a solo exhibition by Canadian bioartist Jennifer Willet, which opens at its third venue, i3S in Porto, Portugal on 12 January 2023. When Microbes Dream premiered at Kapelica Gallery (Ljubljana, Slovenia) in Oct 2021, travelled to Ectopia (Lisbon, Portugal) in Sept 2022, and continues on its European tour.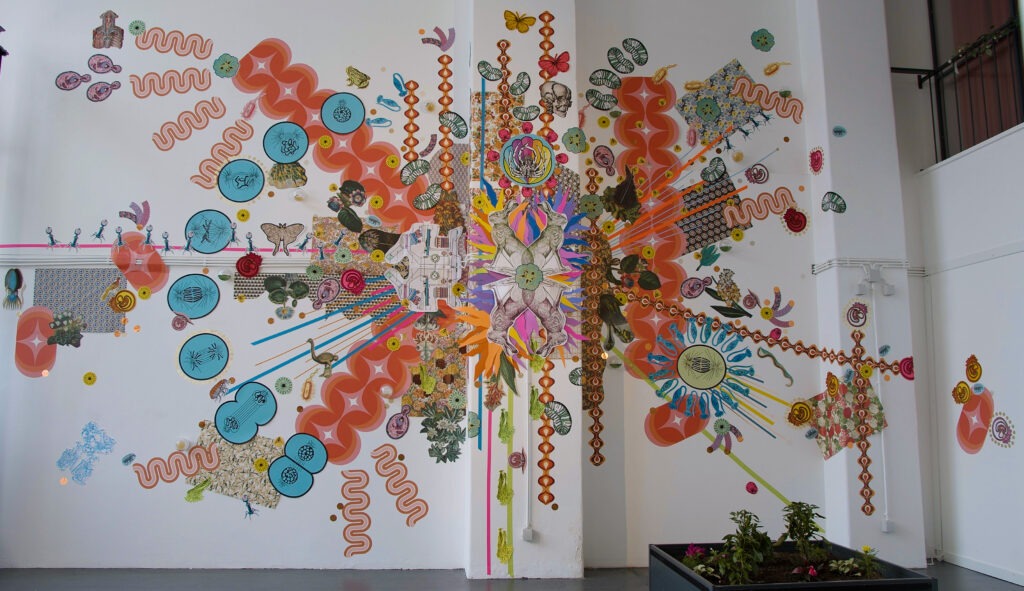 When Microbes Dream introduces audiences to allegorical visions of biotechnology as a technology of abundance, rooted in interspecies collaboration and bespoke ecologies. With this exhibition, the artist reimagines laboratory aesthetics as bountiful, feminine, and gaudy in direct contradiction to scientific norms. Willet presents several works including live specimens in conjunction with performative sculpture, large-scale installations, and a series of digital prints.
Each artwork presents a complex vision of organisms large and small (mammals, microbes, plants, and insects) working in collaboration to present biotech processes to human audiences. This work de-prioritizes the human scientist as the dominant organism working within a robust laboratory ecology. Rather, presents the daydreams of non-human organisms living, reproducing, performing and dying within laboratory settings.
When Microbes Dream presents a feminist science-fiction where biotechnology manifests interspecies collaboration, reproduction, theatre and storytelling as a means to re-imagine our shared biotech future.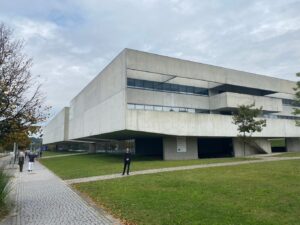 i3S: Instituto de Investigação e Inovação em Saúde (Institute for Research and Innovation in Health) is a transdisciplinary institution dedicated to research and innovation in Health Sciences. Being a major infrastructure in the region, i3S belongs to a robust network of EU bioart professionals (curators, artists, scientists, bioart laboratories, public institutions). A research institute at its core, i3S delves into the arts and other cultural activities. i3S Director Maria Lopes is assistant Director of two residency programs: 'artists in Labs' Ectopia (Lisbon) and Cultivamos Cultura, an ecological oriented residency program in a farm in Alentejo. One of the i3S Communication Unit goals is to acknowledge science as embedded in/part of culture and to bring science closer to society and to integrate the arts in the forms of residencies, exhibitions, conversations, workshops is considered a priority.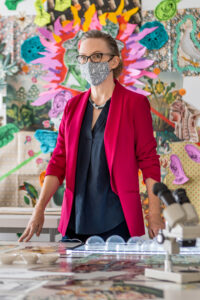 Jennifer Willet is an internationally recognized artist in the emerging field of bio art. Her research resides at the intersection of art and science, and explores notions of representation, the body, ecologies, and interspecies interrelations in the biotechnological field.  She engages in performance, installation, photography and sculpture based artistic practices, community arts and social practice, and philosophy of science, media studies, science and technology studies, combined with protocols and life forms from the biological sciences. She is the Director of INCUBATOR Art Lab and a Canada Research Chair in Art, Science and Ecology at the University of Windsor.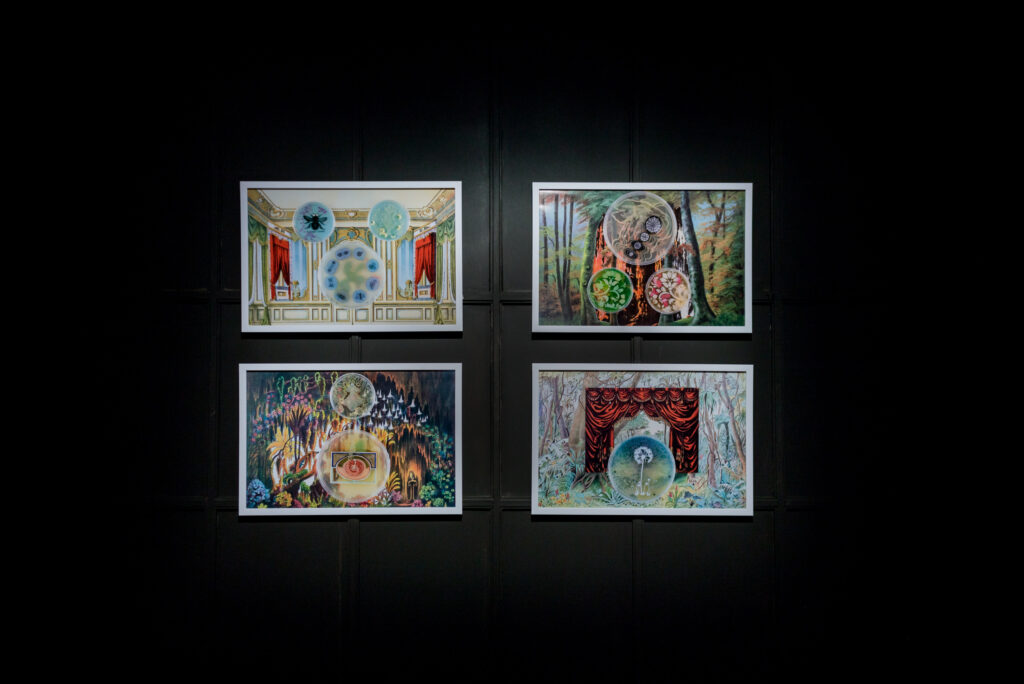 This exhibition is produced in partnership with IOTA Institute, INCUBATOR Art Lab, and i3S. This project gratefully acknowledges the support of the University of Windsor, Canada Research Chair Program, Social Science and Humanities Research Council of Canada, Ontario Arts Council, the Canada Council for the Arts, the Trade Commissioners at the Embassy of Canada to Portugal, and the Province of Nova Scotia's Department of Communities, Culture and Heritage. 
When Microbes Dream Project Assistants: Billie Mclaughlin, Domenica Mediati, Angela Awada, Jude Abu Zaineh, Lisha Laing, Aleeza Tariq, Kadila Adili, Phil Habashy, Justin Elliott, Michael Lucenkiw, Gillian Hughes, Luke Maddiford, Ashley Hemmings, Megan Andrews, Hadia Nadeem, Lyndsay Mckay.
Artist, Director of INCUBATOR Art Lab
Dr. Jennifer Willet, Director of INCUBATOR Lab, and Associate Professor in the School of Creative Arts, at the University of Windsor (Canada) is an interdisciplinary artist and curator working in art and technology, bioart and social practice genres.
Presenting Partner, Bioart Lab
A studio/lab to facilitate ongoing bioart research and production for INCUBATOR art lab members at The University of Windsor
Research Institute, Exhibition Venue
i3S: Instituto de Investigação e Inovação em Saúde (Institute for Research and Innovation in Health) is a transdisciplinary institution based in Porto, Portugal dedicated to research and innovation in Health Sciences. Being a major infrastructure in the region, i3S belongs to a robust network of EU bioart professionals (curators, artists, scientists, bioart laboratories, public... Read More