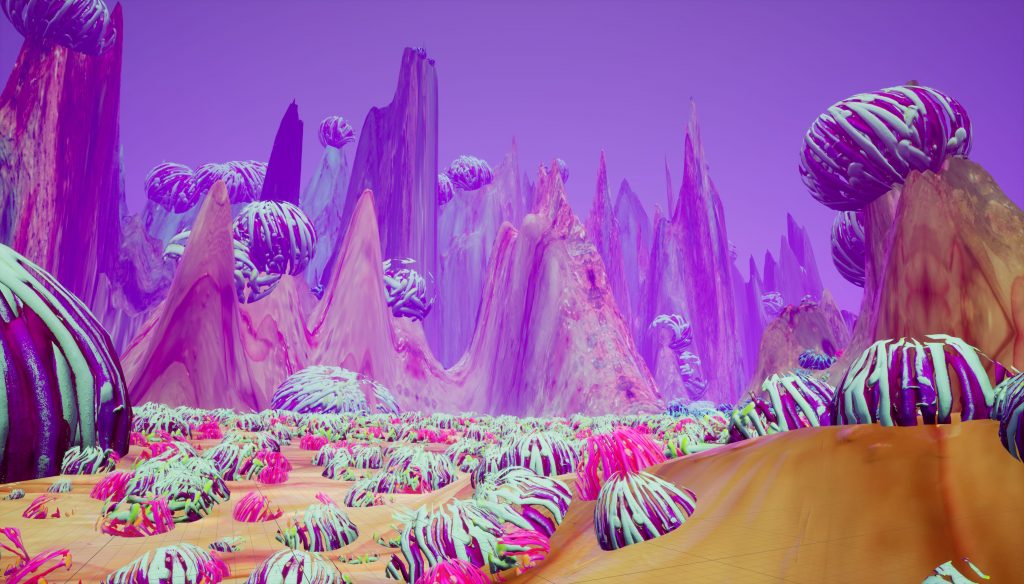 Artist Ruth Marsh is developing and releasing an exploration video game for VR and PC that explores the idea of the human body as a virtual space. They will release the game in six sequential chapters; like a series of trips to small, far away galaxies.
01) Pulse and Breath (launched January 22, 2021)
02) Digestion and Excretion
03) Reproduction
04) Skin, Hair and Nails
05) Muscles and the Skeleton and finally
06) Thought, Emotion, Memory and the Senses
Those wishing to play the game may access it on this project page via downloadable file which will allow you to play the game from the safety of your home.
A new playable file will be made available on this project page every two months throughout 2021. 
Instructions:
Click the button for either a PC computer or to use with an Oculus Quest 2 headset.
Download Zip file from Wetransfer link by clicking button below.
Use a zip extractor to extract folder (such as WinZip).
Open folder.
Click on blue Unreal Engine application icon.
Game will launch.
Overnight, as a result of the COVID 19 pandemic the vast majority of human social interactions have made the shift from physical spaces to virtual spaces. Now more than ever before in human history, virtual spaces are critical as conduits for human connection. We are living through a time of fear; fear of touch, fear of public spaces, fear of bodies, fluids, breath, proximity; even the fear of interacting with one's own body ("Wash your hands, don't touch your face.").
This is a time when human breath and touch have increasingly taken on the troubled connotations as access point for sickness, danger and death. Loneliness and disconnection are being felt deeply and in new ways. What is quarantine doing to the way we think about our bodies, connection, safety and pleasure now and in the coming years? This artwork will create access points to these things.
The game is intended as both a tool for a future (and present) dystopia wherein touch is forbidden and, to serve as a wry strategy to help metabolize the grief of our current, unique, historical moment.
Ruth is interested in exploring the ways this moment considers indoor, isolated bodies by going still further inside; at a time when public spaces are mainly accessible as virtual tours.
Why not enter and explore a virtual tour of the body itself?
Rather than trying to be scientifically accurate, this work aims to be deeply speculative; more a dream than a textbook. This virtual body will include representations of expected elements like neurons/synapses, villi/secretions, bones/biomes, viscera and sinew but will additionally include sci-fi elements like tentacles/coral-reefs, wormholes/slime-moulds, exoskeletons and computer systems. The artist imagines the body they are assembling will become a juicy, interactive site of speculation, sensation, symbiosis, fermentation, play and pleasure.
Game Credits:
Game Design & Creation: Ruth Marsh
Original Music and Sound Effects: Jeremy Costello
Technical Mentorship/Technical Support/Creative Collaboration: Jordan Marczak
Technical Support: Andrew MacIntyre
Public Call: Help design the next chapters!
The artist would be grateful for your input!
"I've been thinking about my own dreams for my queer, non-binary body in quarantine. Is it a zooming comet made of diamonds, a time travelling grapefruit, a miniature city perched precariously on the back of a lizard? It's all and none of those things, I suppose and sticking to one body's vision feels too limiting for the kind of work I want to make for you. How does your queer body dream outside of the gender binary?

 

Tell me about your hopes and wishes, please! Tell me about what gives you pleasure and makes you feel grounded in your skin.

Tell me about the things you'd like to see and explore within an immersive Virtual Reality space and as a PC game."