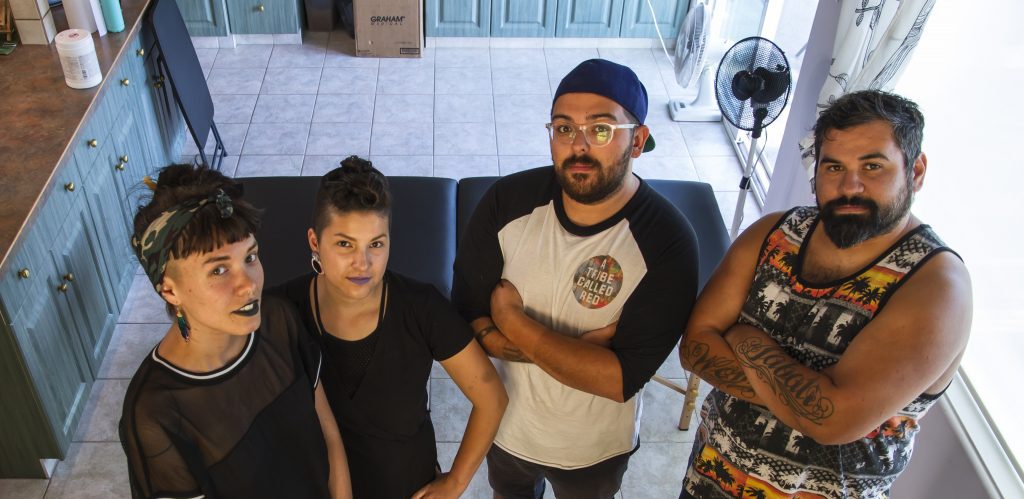 Introducing the cultural tattoo practitioners and visual artists that make up Earthline Tattoo Collective, Jordan Bennett, Amberley John, Dion Kaszas, Amy Malbeuf and the 2019 Programs Coordinator Audie Murray.
---
Over the past 10 years, Jordan has participated in over 75 group and solo exhibitions nationally and internationally.
He has been the recipient of several awards and honours, a Hnatyshan Foundation REVEAL award, presented with the 2014 Newfoundland and Labrador Arts Councils Artist of the Year and named as one of the artists in the 2014 Blouin ARTINFO's Top 30 under 30 in Canada. Most notably, he has been long-listed for the 2015 and 2016 Sobey Art Award, and was short listed for the 2018 Awards.
Jordan is currently partnered with IOTA: STUDIOS, and working on several projects including various artistic collaborations, public commissions and exhibitions, including a newlyaunched public art commission for the Zatzman Sportsplex in Dartmouth, N.S. and a solo exhibition at the Art Gallery of Nova Scotia.
---
Amberley John
Amberley John is Onyote'aka (bear clan) and the newest member of the Earthline Tattoo Collective. She trained in handpoke and skin stitch tattooing methods at the 2017 Earthline Tattoo Residency in unceded syilx territory (Kelowna, BC), where she is still currently a graduate student working to complete a Master's in Fine Arts Interdisciplinary in Indigenous Studies, at the University of British Columbia.
As an emerging artist and cultural tattoo practitioner Amberley is interested in exploring her responsibilities to multiple communities through her creative practice. It is generally understood that Bear clan members have a responsibility to learn about medicines and support healing. She focuses on Haudenosaunee designs and motifs, but also collaborates with individuals from different nations to find common or appropriate imagery.
She feels that tattoos are marks of intergenerational healing. Earthline's care for health and safety education with regards to preventing the spread of blood borne pathogens, taking care of people with various health concerns and cultural safety is critical, as our communities strengthen our traditional practices and renew old friendships between nations.
---
Dion Kaszas
Dion Kaszas is a tattoo artist, cultural tattoo practitioner, painter, teacher, and scholar of Hungarian, Métis, and Nlaka'pamux (Interior Salish) heritage.
He works in the artistic mediums of oil, watercolour, graphite, mixed media collage and video. Dion's passion for tattooing extends beyond his artistic work into a Masters degree in Indigenous Studies at the University of British Columbia Okanagan in Kelowna, British Columbia. His area of research is Indigenous tattooing, focusing keenly on the revival of Indigenous peoples tattooing practices, using Indigenous and creative research methodologies.
Dion is one of the founding members of the Earthline Tattoo Collective which aims to enhance, expand and support the work of traditional and cultural Indigenous tattoo practices across Canada.
---
Amy Malbeuf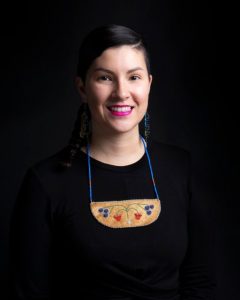 Amy Malbeuf is a Métis visual artist and cultural tattoo practitioner from Rich Lake, Alberta in Treaty Six territory.
She lives and works on unceded Mi'kmaq territory in Terence Bay, Nova Scotia with her partner in life and art Jordan Bennett. Malbeuf creates art works in mediums such as animal hair tufting and embroidery, beadwork, sculpture and installation. As a textiles based artist it was a natural transition for Amy to apply her hand-sewing skills to the skin-stitch tattoo method. Amy tattoos in both hand-poke and skin-stitch techniques, however she specializes in the skin-stitch method. Amy is focused on the revival of Indigenous women's tattooing, particularly within Cree tattoo practices.
Amy holds a Native Cultural Arts Instructor Certificate from Portage College and an MFA degree in Visual Art from the University of British Columbia Okanagan. In 2015 she co -founded Earthline Tattoo Collective with Jordan Bennett and Dion Kaszas.