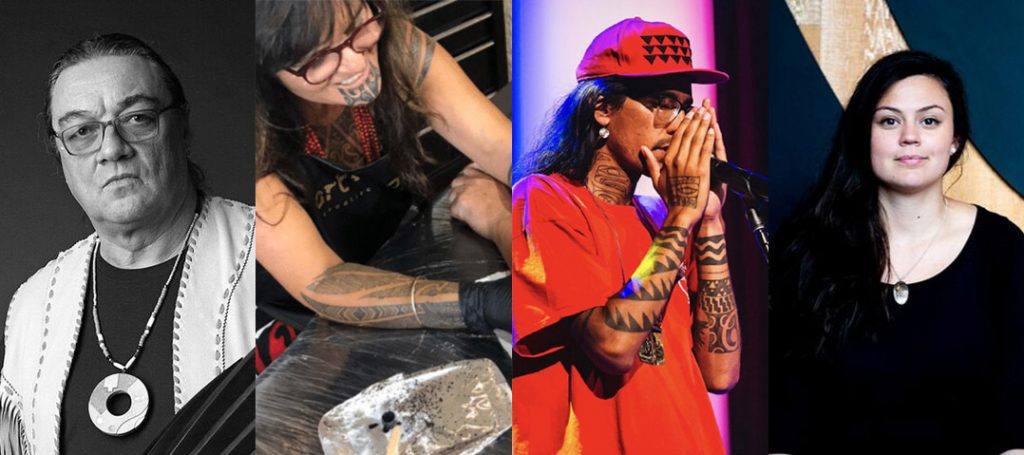 To guide them on their journey in (re)learning the cultural practice of Indigenous tattooing the 2019 Earthline Tattoo School participants will be working with inspiring guest mentors, Jerry Evans, Julie Paama-Pengally, Nakkita Trimble and Nahaan.
---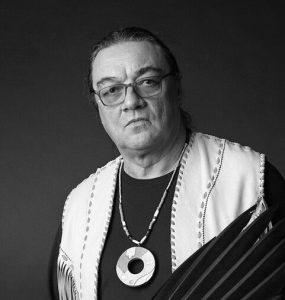 Jerry Evans is Mi'kmaq born in central Newfoundland. In 1986 he graduated from the Nova Scotia College of Art and Design with a Bachelor of Fine Art. He completed an Education Degree at Memorial University of Newfoundland and Labrador and has been a practicing Visual Artist for over thirty years.
Primarily a painter and printmaker, Jerry is also is a multi-media artist who has worked in film, has qualified and reclaimed traditional single poke tattoo as a means of expression and gift exchange, and has created regalia for his own pow wow dancing for more than a decade.
You can find Jerry and his work on Instagram.
---
Julie Paama-Pengally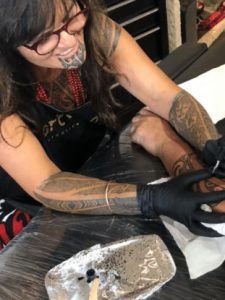 Julie has been at the forefront of developments in Māori Arts since the mid 1980s and was fortunate to have been taught herself by strong visionary Māori artists and mentors.Julie focused her passion onMāoritattooing traditions post-1990,enlightened to the role that Tā moko could play in advancing the health and well-being of Māori.
Vocal in her conviction that within Māori pedagogy body marking serves as powerful communicator,Julie has equally advocated for the restoration of Māori women within itspractice. Active inTā moko during its fledgling revival, Julie pioneered the role of women as practitioner and the entitlement of women to wear particular types of moko.In 2004, Julie was commissioned -along with new Zealand's foremost Tāmokoartists -to perform her practice publicly at Te Papa National Museum during which time she tattooed full pehaor puhoro (covering lower back, hips and thighs to knee)on two women.
While consistently challenged on the involvement of women in customary Māori art practices, Julie has responded by directing leadership in research and social commentary on Māori arts. In 2010, shepenned the award-winning book Māori Art & Design, the first comprehensive handbook on the subject. Julie holds Masters qualifications in Third World Development and Māori Visual Arts (honours) as well as Toi Iho certification –a unique registered Aotearoa New Zealand trademark of Māori quality and authenticity –for Tā moko, design and multimedia.While operating a successful studio in Mount Maunganui, Julie is particularly enthusiastic to make connections with other indigenous peoples reviving their tattoo practices.
You can learn more about Julie and her work on her website, or follow her on Instagram and Facebook.
---
Nahaan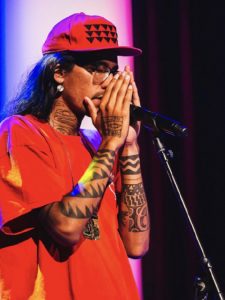 Nahaan's matrilineal lineage is of the Tlingit, his grandfather is Iñupiaq, his biological father of the Paiute and his actual father is of the Kaigani Haida. He focuses exclusively on working within the spirit and design style of the Northwest Coast practices and customs of ceremonial tattooing, wood carving, copper and abalone jewelry, painting and custom designing of regalia and tattoos.
Nahaan emulates the strong visual and oral storytelling that has been handed down from generation to generation, it's the foundation of his work, way of living and teaching of his cultural traditions. Within the realms of language arts and expression, Nahaan teaches the Tlingit language through traditional songs, dances and free Indigenous only community classes. He is the leader for Tlingit based inter-tribal group Náakw Dancers, a group he started in Seattle, Washington in 2014, in order to perpetuate the rich expressions of the Pacific Northwests Native population.
Nahaan is also a spoken word poet and co-founded "Woosh Kinaadeiyeí" poetry slam in Juneau, Alaska in 2010 which has since grown into a thriving and creative mainstay in the capitol city. He is also a vocalist for Khu.éex' a Seattle based band that presents a contemporary interpretation of Tlingit culture. He focuses on the aspects of community empowerment and self mastery through the methods of dekkkolonization, Indigenization, education and activism. He offers workshop facilitation and keynotes for conferences and events near and far.
You can find Nahaan and his work on his website, or follow him on Instagram, Facebook, youtube and Soundcloud.
---
Nakkita Trimble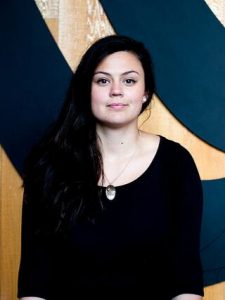 Nakkita Trimblehl waý, ii Algaxhl Gwilks-ḵ'alt'amtkwhl wam aluugigadiý.  Ksim Ganada ńiiý, ii Gingolx wil ẃitgwiý. Nisga'ahl nooý, ii Tlingithl nigwoodiý. Rose (Gurney)hl wahl agwii-nits'iits'iý, ii Christopher Trimblehl wahl agwii-niye'eý.My name is Nakkita Trimble.  
My Nisga'a name is Speaking Through Art. I am from Wilps Axdii Wil Luugooda, The House that is Never Empty. I am Frog clan and maternally from Gingolx, British Columbia. Maternally I am Nisga'a. My great grandparents names are Rose (Gurney) and Christopher Trimble. My great grandparents were one of two of the last arranged marriages from my village. I began tattooing in 2011. I began working on the Nisga'a Tattoo revival in 2013/2014 with the Council of Elders (CoE) comprised of some Chiefs and Matriarchs of the four main Nisga'a villages in the Nass Valley. With my Nation's support we laid the groundwork for the revival for our people.
You learn more about Nakkita and her work on her website, and follow her on Instagram.