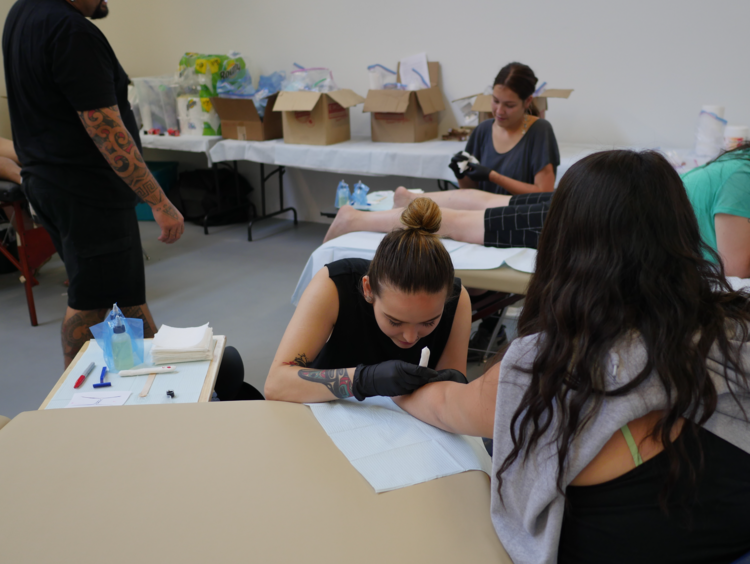 IOTA is excited to announce its partnership with the Earthline Tattoo Collective in presenting this year's Tattoo School, an opportunity for Indigenous artists to (re)learn their craft.
This important initiative will take place on Mi'kma'ki in Kjipuktuk (Halifax) between February 9th and March 16th, 2019. The Tattoo School is held at the Art Gallery of Nova Scotia, who will also host a public artist talk.
The Earthline Tattoo Collective in partnership with IOTA will host a tattoo demonstration open to the public and a youth workshop in early March. The public demonstration held at the Museum of Natural History March 9th, will be an opportunity for a broad audience to come together and discuss safe and healthy practices and spaces when teaching traditional Indigenous tattooing.
We would also like to congratulate the 2019 Earthline Tattoo School participants: Quill Christie-Peters, Stacey Fayant and Mila Waseskwan and the cultural tattoo practitioners and visual artists that make up Earthline Tattoo Collective, Jordan Bennett (Mi'kmaq, NS), Amberley John [kʌniyewʌna (Bear Clan), ON], Dion Kaszas (Nlaka'pamux, BC), and Amy Malbeuf (Métis, NS). The Tattoo School will also be welcoming tattoo practitioners of international caliber and expertise as guest mentors.
Information about Earthline Tattoo Collective, their guests and what events are open for local participation will be made available in the coming weeks @IOTAintitute, including an inside look at the Tattoo School as strides are made in reviving an important cultural practice.