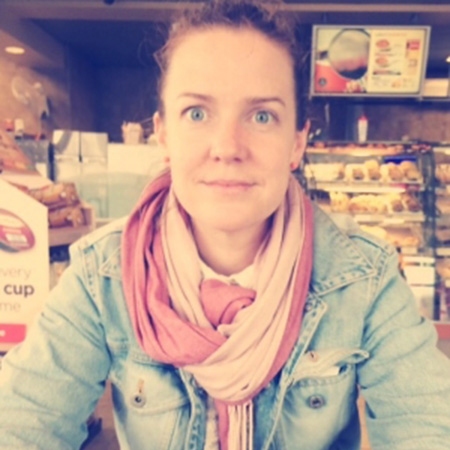 Curator, Pop-Up Craft Gallery for Art Out Loud – Creative Nova Scotia Arts Awards, November 7th, 2015
This interview took place in the context of IOTA and Off the Leash's Artistic Direction for the 2015 Creative Nova Scotia Awards Gala featuring the Prix Grand Pré, Established Artist Recognition Awards, Community Arts and Culture Recognition Award, Lieutenant Governor of Nova Scotia Masterworks Award, and the Portia White Award. Over twenty talented artists were invited to participate in the evening's event, offering collaborative artistic expression that shows the diversity of artistic vocation in the province; visual, media, performance, light and sound designer, craft and installation were all included to perform and present their work throughout the evening adding to the vigor of the thematic, emphasizing that Art is Out Loud.
IOTA:
You are the Education and Outreach Coordinator at Cape Breton University Art Gallery and are part of a collective named Moving Arms II. How has working and making art in a rural context benefited or influenced your artistic pursuits as a multidisciplinary artist?
Sara Roth:
Working outside of a major urban centre does present some challenges, mainly in interacting with other artists and work in a variety of disciplines. But, it also has a lot of advantages. I love the working at a grassroots level on different projects and organizations, and really feel like I can help to shape my community. I am also influenced by the natural and built environments of my immediate surroundings; Industrial Cape Breton's long transition towards post-industrialization is a rich resource.
IOTA:
Does your interest in "imagined stories" bridge on an exploration of myth and folklore?
Sara Roth:
While I don't expressly address or incorporate myth or folklore in my work, I am interested in the stories people tell about the places we live. Where I'm not from here, stories about Cape Breton's past aren't part of my history. So, when these narratives are expressed or represented in my work they are shaped by my experiences and aesthetic and in that way are imagined.
IOTA:
As a first-time curator, can you tell me about your selection process for this Art Out Loud Pop Up Gallery?
Sara Roth:
For the Art Out Loud Pop Up Gallery I was interested in work that combines decorative and sculptural elements that draw the viewer in while walking the line of usability and ornament. These artists use vibrant surface decoration and sculptural forms, but are also concerned with functionality on some level.
Caitlyn Purcell draws on the resources nearby for materials and inspiration. Crab claws found on Cape Breton's beaches are cast into rough charms. The Island's industrial past is reflected in smoky crystals that hang from necklaces and earrings.
Mariko Paterson's ceramics also refer to a (nostalgic) past. The era of discos and roller rinks is brought to life on whimsical mugs and platters depicting erotic scenes of roller derby boys and ladies wrestling. And because of the circular nature of the vessels, this fantastic gender-bending fantasy has no beginning and no end.
Like Patterson's work, Kara Highfield treats her ceramic surfaces as an opportunity for repeat pattern. Inspired by printed textiles and her earlier sculptural works, the overlapped geometric motifs that repeat on the Leaf Platter are perfectly out of alignment.
Randy Mugford's work also balances clean design with imperfect elements. Working with the live edge of wood planks, he uses concrete to square off the board and create a seamless transition between the two materials.
IOTA:
What are contemporary concerns or current trends in craft that attract you to the discipline as a curator?
Sara Roth:
I am interested in the ways in which artists place constraints or parameters their practices through the choice of materials, whether through the reuse of discarded or found objects or by making use of locally available materials. I am also interested in the DIY movement and its relationship to fine craft and visual art. I appreciate the movement in terms of the democratization of production, but I think there is a strong tension between fine craft and the culture of tutorials that is the foundation of the DIY and maker movements.
IOTA:
Craftivism is a term popularized in the last ten years, referring to craft theory that bridges on third-wave feminism and questions surrounding domesticity, as well as discusses the labour movement through the lens of anti-capitalism. How does the maker address these concerns within their craft works?
Sara Roth:
I think the concerns of Craftivism are expressed in the process rather than the craft product. Craftivism is about knowledge sharing, community building, and personal acts that exist (somewhat) outside the commercial realm. In this way, I think the concept of Craftivism has a stronger relationship with the DIY movement than the realm of fine craft, as is apparent in large online and real-life communities. That said I see professional craftspeople, those who make their living from craft, generous in sharing details about processes, techniques and materials with their community. I don't necessarily think making by hand is, in itself a revolutionary act, but making something yourself or purchasing from a maker is a reminder of the resources and human labour involved in producing all of our things. Something that might ultimately cause us to question and reflect on our capitalist system a whole.
Sara Roth:
I'm excited to return to craft making myself. With the cooler weather coming, it's a good time for needlework. I have some small embroidery patches in the works and an applique quilt I've been working on very intermittently for the past 7 years.