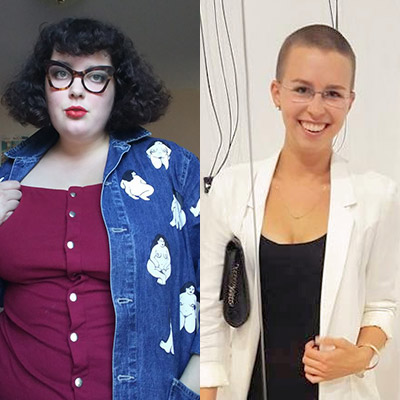 Co-curators, Film and Video program for Art Out Loud – Creative Nova Scotia Arts Awards, November, 2015
This interview took place in the context of IOTA and Off the Leash's Artistic Direction for the 2015 Creative Nova Scotia Awards Gala featuring the Prix Grand Pré, Established Artist Recognition Awards, Community Arts and Culture Recognition Award, Lieutenant Governor of Nova Scotia Masterworks Award, and the Portia White Award. Over twenty talented artists were invited to participate in the evening's event, offering collaborative artistic expression that shows the diversity of artistic vocation in the province; visual, media, performance, light and sound designer, craft and installation were all included to perform and present their work throughout the evening adding to the vigor of the thematic, emphasizing that Art is Out Loud.
IOTA:
What is your perspective of curating as students of Art History?
Mollie Cronin and Amanda Shore:
Coming into an arts school as academics (both of us having transferred from King's) we've always been interested in making connections between the humanities, particularly in locating the intersections of academics and fine art practices that are so present at NSCAD. The art history program didn't have the same studio environment that we saw in the fine arts program, and the structures of the campuses didn't allow for a lot of common gathering spaces, so we made efforts to try and build bridges where we saw a lack. We always talk about how our time at NSCAD was such a lesson on how to look at and think about art, that we were given these critical and historical lenses that colour all of our curatorial decisions for the better.
IOTA:
You have curated and written together as a duo before now. Can you tell us about what brings you together as a complimentary duo, about how you work together on projects, especially considering your current distance as Amanda completes a training program in curatorial studies in Venice and Mollie, as you are currently  working as a collections supervisor and freelance writer in Halifax.
Mollie Cronin and Amanda Shore:
Our conversations sound like hiccups.  We think very differently and are constantly checking each other, bouncing ideas back and forth all the time, but our respective styles of writing and communication are really complementary.We've been close friends for a number of years and have been roommates for the last year, six months of which saw Amanda living in Venice for a curatorial program. We were very eager to begin working on a new project together after so much time apart and were intrigued by the challenges of collaborating from a distance. And while challenges have certainly presented themselves, our last year of collaborating on exhibitions, interventions, symposia and more has prepared us for the task.
IOTA:
What has been your most valuable experience working with a single or a group of artist(s)?
Mollie Cronin and Amanda Shore:
It was a real pleasure for us to work closely with Karin Cope, faculty in the Critical Studies department at NSCAD. When we mounted her video installation In Search of Miraculous Adventure in our exhibition WHEREABOUTS she allowed us to help her play with the physical structure of her work to a point where the line between artist and curator began to blur. It was our first experience learning how to ask an artist the right questions in order to challenge their current conception of their work, in a way that helps them feel satisfied with the resulting viewer experience. Because we work collaboratively as a duo, there is no opportunity for us to operate as an autonomous curatorial authority. Our work ethic consists of a lot of questioning, a lot of play and a lot of re-calculating, which we hope is a freeing experience for artists.
IOTA:
In your curatorial program for the Creative NS Arts Awards, you are responding to the idea of Art Out Loud. What is your interpretation of this thematic as it relates to the films and videos in your curated media program?
Mollie Cronin and Amanda Shore:
In considering Art Out Loud and "the artist as renegade" we have been responding to what makes a renegade body, and what it then means for said body to occupy space. The punk movement was pressure from the left. Pressure exerted not just in rallies and protests, in loud music or in explicit lyrics; it was pressure that was subtly exerted through the very act of being as a leftist figure. Being became an action. Loitering became occupation. As racial profiling causes tragedy across the world (from blacklivesmatter to the European borders crisis), police officials impress upon us that simply being in public becomes an act of occupation, of loitering. Throughout our curatorial selection we have been focusing our attentions on bodies that occupy the screen, bodies that loiter on the screen – renegade bodies that exert power simply by being – as a way to consider what the contemporary renegade might look like.
IOTA:
How do you imagine you will be involved with curating in your future in the art world?
Mollie Cronin and Amanda Shore:
We like to wear a lot of different hats in the art world. We're writers, collaborators, critics, and speakers, among many other things (mollie even makes cartoons), and we both love that curating gives us the opportunity to wear so many of these hats at once. So as long as we continue to be critics, writers, speakers, and thinkers, I suppose we'll always come back to curation.
Mollie Cronin and Amanda Shore:
Mollie Cronin: I am currently working full-time as a collections supervisor, an occasional freelance arts writer, and am running a podcast out of Halifax's No Offense* gallery on arts and culture in the city. I hope to pursue a masters in Art History in the fall of 2017, but in the meantime will continue to try continue to be a critical voice in the city and to provide platforms for others to do the same.
Amanda Shore: After returning home from a summer curatorial program in Venice, Italy, I hope to continue to collaborate in with local theatre groups, continue as a docent for the AGNS, while applying for my masters degree. I envision a long future of collaborating with Mollie, even as we move towards pursuing masters degrees in different places. We now know that distance is no barrier for our collaborative efforts.
Amanda Shore is an arts worker, writer, and curator based in Kjipuktuk (Halifax, Nova Scotia) and has held the position as Curatorial Research Assistant and Art Manager for IOTA since 2020. Her past research has tracked pathways of gentrification, and focused on settler responsibility, racial plagiarism, and craft-based actions of solidarity. Since 2017, she has... Read More