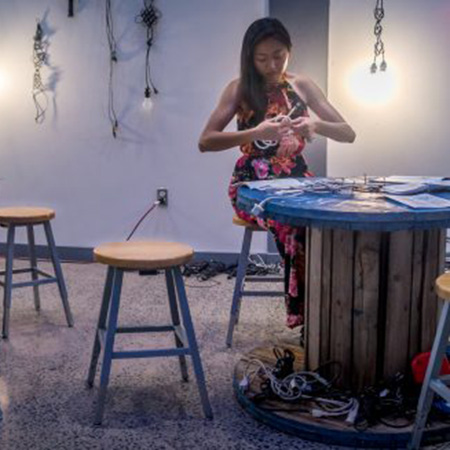 Artist, Staircase Video Projection for Art Out Loud – Creative Nova Scotia Arts Awards, November 7th, 2015
Cheung will have a video projection on the second floor of the Library between November 8th and November 14th, on view at night. She will also give an artist talk at the Halifax Central Library for the 12th of November at 7pm at the Library.
This interview took place in the context of IOTA and Off the Leash's Artistic Direction for the 2015 Creative Nova Scotia Awards Gala featuring the Prix Grand Pré, Established Artist Recognition Awards, Community Arts and Culture Recognition Award, Lieutenant Governor of Nova Scotia Masterworks Award, and the Portia White Award. Over twenty talented artists were invited to participate in the evening's event, offering collaborative artistic expression that shows the diversity of artistic vocation in the province; visual, media, performance, light and sound designer, craft and installation were all included to perform and present their work throughout the evening adding to the vigor of the thematic, emphasizing that Art is Out Loud.
IOTA:
Your study of material culture seems to come from an interest in the disambiguation or deconstruction of structured systems such as in your video sculptures titled Home Away, can you tell us about your view of the 3 dimensional within your art practice?
Annie Onyi Cheung:
My work comes out of trying to resolve feelings of uneasiness about being in the world, and being among others. Tactility and acts of agency are some avenues toward reclaiming control (and comfort). I've found that these strategies naturally manifest in work that occupies a three-dimensional and time-based space.
I'm an immigrant to Canada. I came with my parents when I was two and a half years old. I learned English as a second language in public school. Being an English and Chinese-speaking child in a home with Chinese-speaking adults was a lot of responsibility. I was the main conduit for my family's English life in Canada for many years. I learned much of how to behave in the public world around me by constantly negotiating the chasm between home and everything else that existed outside of home. Language, food, etiquette, the list of differences could go on. BUT, what I found was that all things material and immaterial were translatable in some way, and could be used as vernacular to somehow form new meaning, understand, and offer some comfort.
IOTA:
Your practice includes sculpture and is more recently broaching on new media work. How do you conceptually work through surface tensions such as video projection onto surfaces which are only touches by light versus your sculptural work which involve a very precise doing and undoing of the artist's hand in the way you manipulate your materials?
Annie Onyi Cheung:
I'm not a virtuoso of any materials. My approach is always to use what is at hand. During Kindergarten in Scarborough, I would regularly crawl under the paint easels to steal pieces of masking tape to use on my fingers so I could make long fake fingernails and decorate them. This is one of my earliest and favourite memories of being resourceful (aka a thief) and making something that felt precious from scraps of humble material. My teacher was less than impressed and my parents were called, because I was being a nuisance.
Regardless, I can see that in my art practice and process I am often thinking in a pragmatic way in terms of problem solving. The site-specific works in public spaces especially demonstrate this. Instead of insisting on additive elements to force an imagined something, there are often tools, surfaces, and unconventional materials hidden in plain sight that I will always prefer to use.
There was no better, or more appropriate content for the stairs video projections I'm installing at the Halifax Central Library site next week, than to use the experience of it: the initial and ongoing discussions, working within the spatial and time constraints, and unexpected surprises that crop up in the process of negotiating a temporary public art installation. I am happy with a work when I can find balance between my well-laid plan, and embracing the inevitable elements of chance that nudge the work this way or that way when I finally see it installed on site.
IOTA:
Past projects such as Walking Chimes, Racing Sticks, and I Want More, include participation of a group either as official participant or passersby. Can you speak to these relational projects and to the occasional interactive performative exercises you sometimes employ within your practice?
Annie Onyi Cheung:
Almost all of my projects ask an audience to do something. Sometimes it's more directed, as in the projects you've mentioned. In the case of Walking Chimes, Daisuke Takeya our curator, asked us to repurpose/redesign a used Japanese children's school pack that would eventually be worn and travel around Tsunami-affected communities in Japan. My desire for that work was for the wearer to perform a sound-based work that would leave no trace as the exhibition toured these communities. The marriage of making a self-fulfilling performance object, and having it come alive each time it is worn feels like magic to me.
Other performed works that are more 'workshop' like are treated like staged scenarios. I like to refer to these as Philip Auslander does: they are template performances that I've set down, with some specific parameters. My challenge is always to pair it down to the most crucial 'rules of engagement', and that any amount of audience participation completes the rest of the work.
In Racing Sticks and I Want More I strategized the template in such a way that even if no one participates, the non-participation or absence ultimately still contributes to the social activity of performance. Another work, an interactive performance with go-karts entitled Knowhere was an incredibly stressful prospect for me, because in that case the whole work really did depend on audience participation in a very controlled environment, with instructions that participants had to learn and then negotiate on their own. I thought I was asking a lot of the audience for that piece, but to my surprise the limited slots for participants filled up immediately.
All that is to say that my participatory performances as well as any other projects of mine try to envision how an audience can, and must position themselves in relation to what I've put forward, whether they choose an active or passive role.
IOTA:
Can you tell us about one of your goals, to work in art education?
Annie Onyi Cheung:
I've been considering this question myself! I have earned my credential to teach, having finished my MFA at NSCAD recently, in 2014. Teaching has enhanced my ability to think outside of myself, and helps toward my goals of learning how people communicate, and the various ways we learn. Most recently I've taught a technical Foundations Computers course at the art school, which I enjoyed very much. Before that, I had the privilege of teaching my own course for my first teaching gig. I wrote a performance art course and was lucky enough to have it scheduled for the summer semester after I graduated. It was a fantastic experience, exchanging knowledge and make experiments with an intimate group of very bright and inquisitive students.
Economically, any goal of earning a livelihood from teaching at the University level seems especially dismal these past few years. Schools are under financial pressures, with little room or budget to hire new full-time faculty. In the mean time it's a patience game, seeking those short-term teaching opportunities to gain more experience. Art education is a tricky task(!), it's just the type of brain-teasing template performance that excites me.
IOTA:
You split your art practice between Halifax and Toronto, how would you say your professional practice has benefited from traveling and also keeping a foot in the city where you were lastly educated? Do you at times return to Hong Kong to work on art projects?
Annie Onyi Cheung:
I'm less connected with Hong Kong than I am to Toronto. Even still, the past few years after transitioning to Halifax have been a bit quiet, perhaps I've needed some time to settle in. It's interesting to see my practice change dramatically from one city to another. It took me years to venture into public space, make myself known to arts organizations, and meet other collaborators, artists, and organizers. In this way, I'm still finding my way into a Halifax practice, a bit slow to warm up sometimes.
When I last visited Hong Kong, it was especially difficult to connect to organizations and other artists. Language was a barrier. Although as a child I was fluent in both Mandarin and Cantonese, by the time I was a teenager, my level of fluency degraded significantly. So when I visited Asia as an adult, I was amazed to realize the vocabulary I absolutely had no access to, how to say 'art', how to say 'performance art', how to say 'cultural appropriation' in Chinese. Still today, HOW? It's sometimes hard to accept, but I definitely felt like a tourist.
Annie Onyi Cheung:
Getting the Library work finalized, putting up a bunch of digital projectors, and showing videos that reveal detailed information about how my video installations get made, in the form of confusing and evasive visuals! After that, I have to tidy up my balcony garden in prep for the coming winter.
Annie Onyi Cheung makes performances, videos, multimedia art objects and installations.